A t-shirt is the most worn piece of clothing in the world. It can be adapted to every season and to different contexts. Today, t-shirt manufacturing became a multi-billion dollar industry that transformed the fashion world. It is an iconic piece in both fashion and culture that changed the way messages are shared.
Keep reading to find out more about how this simple piece of clothing became the most universal and powerful garment in the world.
Originally designed as an undergarment, the t-shirt dates back to the late 19th century when war veterans used to wear it underneath their uniforms, tucked into their trousers. However, its first creation is credited to workers that would cut their jumpsuits in half to stay cool in warmer weather. It wasn't until the early 20th century that t-shirts were produced commercially.
THE IMPACT OF WAR

Both the first and second world wars played a significant role in popularizing t-shirts for men. T-shirts were used daily as undershirts during the war and then as casual wear after the war due to their comfort, lightweight and durability. The first t-shirt manufacturing company was founded in 1901 under the name of Hanes. On the other hand, at that same time, t-shirts were already casually being worn by factory laborers and athletes as outerwear clothing. Tshirts for women were also introduced after the war but as part of the one piece swimming suit.
It wasn't until the 1920s for the actual term "t-shirt" to be admitted into the English dictionary thanks to F. Scott Fitzgerald who was the first to publish the word in his novel "this Side of Paradise". In the 1930s, t-shirts began to be mass-produced, but they only started to become a fashion item two decades later.
HOLLYWOOD INFLUENCE
In the 1950s, t-shirts became a symbol of rebellion, influenced by famous Hollywood actors such as Marlon Brando and James Dean. The film stars were the first to be seen wearing a t-shirt on screen, which increased the t-shirt popularity as a casual outerwear garment and a must have fashion item among young teenagers.
The popularization of t-shirts continued in the 1960s under the influences of hippies and protesters. In the 1970s, t-shirts became more mainstream, as they were adopted globally by athletes and celebrities.
BIRTH OF GRAPHIC TEES
1950s onward, numerous manufacturing companies started producing t-shirts and were experimenting with different styles, designs and prints. The first ever printed t-shirt was created by a republican presidential candidate Thomas E. Dewey, printing his presidential slogan "Do it with Dewey" on his t-shirts.
However, it was thanks to the collaboration between a printing company named Tropix and Walt Disney, that printed t-shirts rose significantly. Tees with graphic Disney characters became popular among kids and adults. The graphic t-shirts industry made remarkable profit and numerous innovations regarding the print field, including the birth of screen printing, would help turn the t-shirt industry into what it is today.
T-shirts became a platform for self-expression, decorating them with images, texts, patterns, logos, etc, a simple and easy way to express your personal style, taste and even opinions.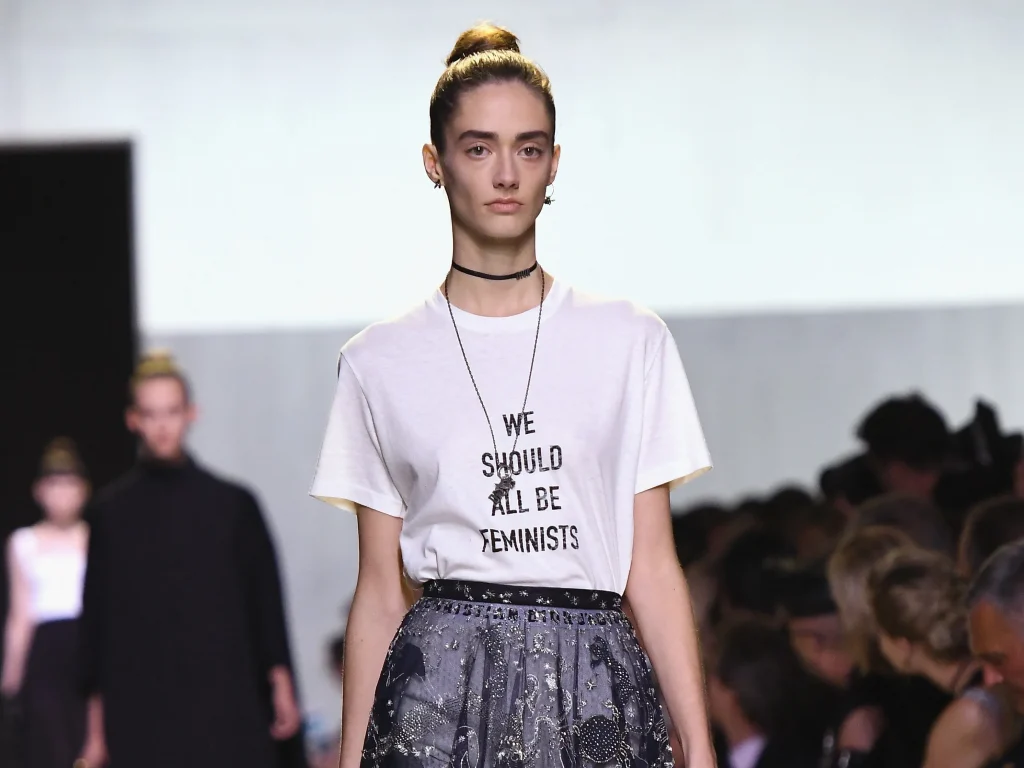 TSHIRT, A POLITICAL WEAPON
In the 1970s, thanks to the punk movement, t-shirts were used to transfer powerful messages becoming a powerful political platform. The shocking and outraging people from rock bands and protesters of the Vietnam War influenced greatly the usage of a t-shirt as a messaging platform.
Over the years, many companies used t-shirts as a medium to convey political and social statements, as well as their support to certain causes. For example, the slogan ""we should all be feminists" imprinted on Christian Dior's t-shirts, while other brands were having t-shirts with "Black Lives Matter" or #MeToo.
Finally, t-shirts have become not only a staple in every wardrobe but an essential item with the ability to convey messages, self-identity, individuality and more. It can be seen as high fashion or casual wear depending on how it's worn.
Want to start your own Made in Italy t-shirts collection?
Read the guide on t-shirts to know all about the variety of styles, materials and more.