What can we expect from the Metaverse going forwards
and how can it impact the Fashion industry?
The metaverse is rising rapidly in the fashion industry, including digital collectibles and NFTs (Non Fungible Tokens). They consist of products designed to be used exclusively in the virtual world. Many fashion brands have already secured strategies and investments in 3D production, virtual reality and artificial intelligence. Let's go back to the basics to understand how it all started and how it will continue to be an opportunity for fashion brands and manufacturers worldwide.
FASHION & THE METAVERSE: HOW IT STARTED?
According to Forbes, "Today we describe the Metaverse as a fully immersive internet, where we will be able to access augmented and virtual reality and interact with all sorts of environments using persistent avatars and innovative digital technology".

In the fashion industry, big fashion brands are already selling digital fashion as NFTs, consisting of certificates of ownership, in the same way that digital art is being traded. Brands have also started approaching the digital world through video games, by simply creating clothing that can be purchased to dress avatars and different characters. Brands like Valentino for Animal Crossing, Balenciaga for Fortnite and Moschino for The Sims, were among the first ones to start these digital collaborations and have witnessed great success, especially from Gen Z. Some predict that buying the right and trendy outfits for your avatar could become as important to the average consumer as picking up new season clothing from the runways of Paris, NY, London and Milan.

In particular, Generation Z is known to be extremely fascinated by the Metaverse and, for all brands if they want to target this generation, it's important to start working on understanding this trend as a new way of experiencing reality. According to a recent McKinsey study, Gen Z, but also millennials and Gen X consumers, are expected to spend as much as 5 hours a day in the Metaverse within the next 5 years.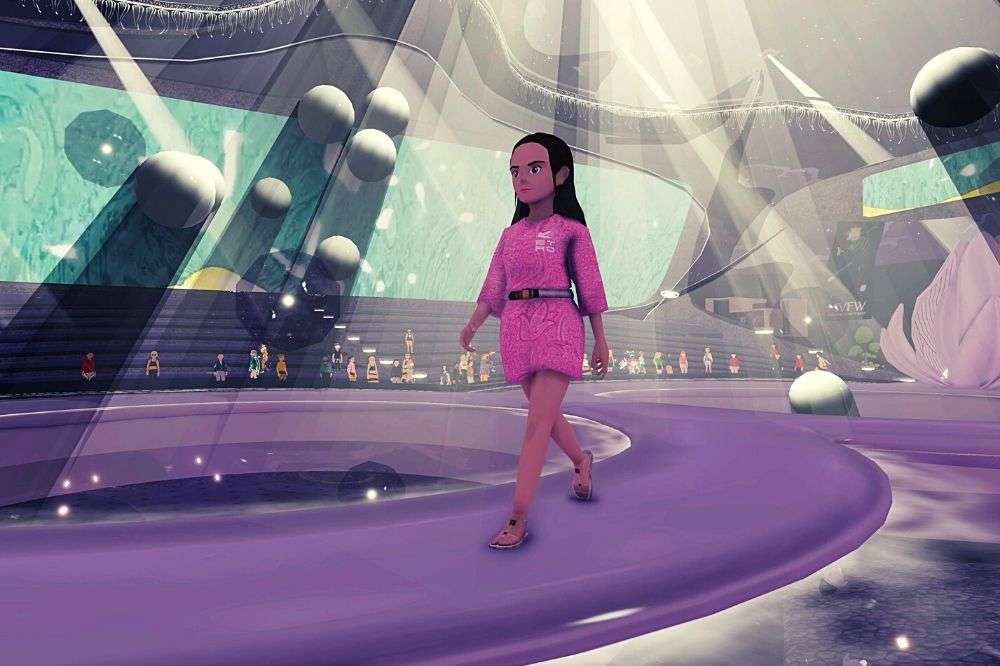 THE BIRTH OF "DIGITAL FASHION"
The global pandemic "Covid 19" has accelerated major developments in technology based on artificial intelligence and virtual reality, and the fashion industry was not excluded. A new sector in the industry has been established: digital fashion.

In fact, on March 24th to 27th took place the first Metaverse Fashion Week in Metajuku, a virtual shopping district in Decentraland, and over 60 luxury brands participated including Etro, Roberto Cavalli, Dolce & Gabbana and Estée Lauder and a performance from Grimes. In Decentraland's platform, users' avatars can socialise, play games, and buy and sell assets using cryptocurrency. Fashion brands that participated in the show were selling digital creations of their collections and creating virtual stores.
Moreover, Decentraland shared that the platform saw 108,000 unique attendees. Moreover, brands like Chanel, Moncler, Givenchy and more have also started collaborating with digital influencers such as Lil Miquela, Hatsune Miku and other digital characters to promote their collections in a new and innovative way.
WHAT ARE THE BENEFITS OF THE METAVERSE FOR THE FASHION INDUSTRY?
In the luxury fashion industry, NFTs solve the problem of counterfeiting because every token has several unique elements (such as a serial code, a watermark, a hologram, a barcode, etc) which makes it impossible to replicate. Moreover, NFTs make it possible for luxury brands to create priceless, irreplicable experiences for customers which will, in turn, improve brand awareness, engagement and boost sales. An NFT is a great way to connect with ideal customers and create a loyal fan base or buyers.
Another great solution for the Fashion industry is that blockchain platforms enable the company to easily track individual products, even parts, along with the journey from the supplier to the customer. This means that NFTs support transparency and therefore sustainability.
In addition, these new technologies can reduce the time and costs of launching a new product or a fashion collection within the initial phase of design and development. Through the software, designers can experiment and test their creations more freely without having to re-create it or invest in materials or more hours of labor work. They are able to see their product in different movements, detect the defaults and directly do the changes before the official prototype and sample, reducing as well the brand's carbon footprint.
The Metaverse is an investment, it is still currently growing but it's a great opportunity for all brands and producers to invest in and make a great profit from it in the future. It is always important for companies to be fashion-forward and futuristic in order to keep their place in this fast-changing industry.